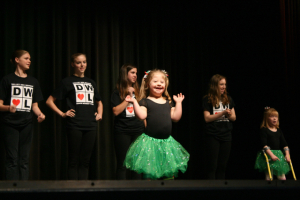 Dance Without Limits Inc.
Dance Without Limits is a 501c3 Non-Profit organization that provides a dance program in Des Moines, Iowa for children and young adults with special needs who may not otherwise have the opportunity to experience the joy of dance. Our fall and spring sessions are comprised of one-hour classes that are designed to suit each individual's needs. During classes held once a week, a period of professional dance instruction is provided by instructors and volunteers trained to work with dancers who have special needs. We offer Lite-Gait equipment for children who need extra support with standing. We have a teacher who is able to communicate in American Sign Language, and volunteers who are learning some simple signs. At the end of each session, participants perform in a recital for family and friends.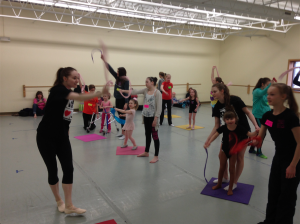 2023 Spring Classes
Registration for Spring 2023 classes will open in January.
Current students (those registered for Fall 2022 session) opens on Saturday, January 21, 2023 at 5:00pm
New and previous registered students opens on Sunday, January 22, 2023 at noon.
If you would like to be added to our email list to receive a registration link, please email us at info@dancewithoutlimits.org .
Classes will be held at The School of Classical Ballet and Dance (SCBD) 1509 42nd St, West Des Moines, IA 50266
Class dates will be (tentative, until registration opens)…
February 12
February 19
February 26
March 5
No Class, Spring Break – March 12 and 19
March 26
April 2
No Class, Easter – April 9
April 16
April 23 – Recital, location TBA
If you are interested in receiving a registration link via email and being added to our email list, send your request to info@dancewithoutlimits.org.
We understand that some families are still experiencing the effects of covid on their daily lives. Our desire is to provide the best experience for all families involved with Dance Without Limits. To that end, we will continue to seek the guidance of a parent doctor and listen for recommendations from the CDC to make any decisions regarding closing with the safety of our dancers and volunteers as a top priority. If you choose to register, we will send you PPE guidelines that are laid out by the dance studio that offers us space. And we do ask that non-participants attending class with your dancer be limited to one – two companions.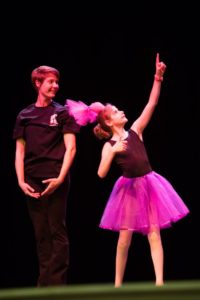 Dance Without Limits classes are offered twice a year, in the fall and in the spring.
Classes are held on Sundays at The School of Classical Ballet and Dance (SCBD), 1509 42nd Street, West Des Moines.
The total cost for one dancer is $50 for the whole session for either spring or fall session.
Spring registration will be held online and open on Sunday, January 22 at noon. If you are on our mailing list, a link will be emailed out to you that day. Otherwise, for more information regarding registration, to be placed on our email list to receive a registration link or with questions, please e-mail info@dancewithoutlimits.org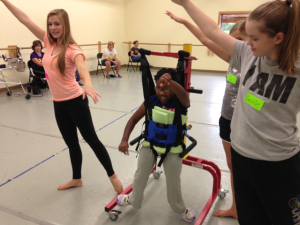 Classes for students are divided into Movement and Technique. Movement classes are the main classes for Dance Without Limits and are great for students new to the Dance Without Limits program. Students, who also require special one-on-one attention with a volunteer or additional assistance dancing, will benefit highly from the Movement program.
Technique classes are for students who can move through ballet and tap instruction without the aid of a special volunteer. One or two volunteers will be present during the class to assist with overall structure while encouraging students to dance on their own. Students in wheelchairs or using equipment they can manage independently will also be considered. We create movement around his/her unique abilities. Both Movement and Technique classes are one-hour long.
We keep our class sizes small; 6-9 kids per session/class. If you have any questions, please email us at info@dancewithoutlimits.org
Classes are held at the School of Classical Ballet and Dance, West Des Moines, IA.
Movement Classes
12:30 – 1:15 // Ages 4 – 8
1:00 – 1:45 // Ages 4 – 8
1:30 – 2:30 // Ages 9 – 12
2:00 – 3:00 // Ages 9 – 18
2:30 – 3:30 // Ages 11 – 18
Technique Classes
3:00 – 4:00 // Ages 10 – 15
3:30 – 4:30// Ages 12 – 18
4:00 – 5:00 // Ages 16 – 18+
*Please note all students interested in Technique classes must gain approval from Program Coordinator and/or teacher prior to joining the class. Email requests to Info@DanceWithoutLimits.org.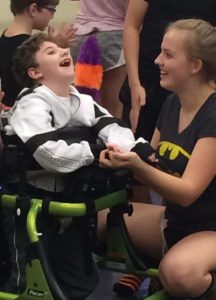 Interested in becoming a Dance Without Limits mentor or volunteer? The Dance Without Limits program is special because of the dancers, but it is not possible without volunteers. We are seeking volunteers with or without dance experience, ages 12 and up, to partner with Dance Without Limits students. Each volunteer is responsible in assisting dancers with any modifications or guidance. Our staff and lead volunteers will provide training.
If you would like to sign up to volunteer, please contact us via email at volunteer@dancewithoutlimits.org.